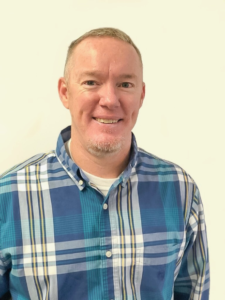 Chad has the privilege of serving as Associate Pastor (bi-vocational) of Family Ministries at Carlisle Baptist Church where he helps lead the staff and oversees all family ministries including marriages, funerals, and counseling. He received his MDIV at Southeastern Baptist Theological Seminary and is pursing his DMIN in Community Care and Counseling in Trauma. Chad has been in ministry since 2000. He has been senior pastor and on staff in various roles to include an English Pastor in a Chinese Church. Chad currently serves as a full time hospice chaplain in a local inpatient unit, Army National Guard Chaplain and Community Chaplain.
He and Courtney have been married for 16 years and have three children ranging from 9 years of age to 13.
Chad's life verse is Psalm 139:14.
"I will praise You
because I have been remarkably and wonderfully made.
Your works are wonderful,
and I know this very well."